AS YOU DIE
Know that You Live Forever - CD

There is no
other presentation like it anywhere in the world. This audio CD is that unique.The presentation alleviates the fear of death and makes it easier and less painful to die. Field tested for over 15 years --it works!
Publisher:

Focus Worldwide Network
ORDER DIRECT DELIVERY to:

Virginia
, All other
United States
,
Canada/Mexico
, or
Worldwide
.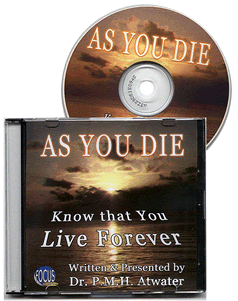 You are about to embark on an engaging, graceful, and comforting encounter with death. This ground breaking presentation is uncompromisingly candid as it probes our intellectual and spiritual curiosity about dying. Based on unparalleled research, this beautiful journey begins as one lays hovering between life and death then convincingly leads one far from fear and despair to a peace and unconquerable hope, knowing that as we die... WE LIVE FOREVER!