AS YOU DIE
Know that You Live Forever - DVD


This ground breaking presentation is uncompromisingly candid as it probes our intellectual and spiritual curiosity about dying.
Publisher:

Focus Worldwide Network
ORDER DIRECT DELIVERY to:

Virginia
, All other
United States
,
Canada/Mexico
, or
Worldwide
.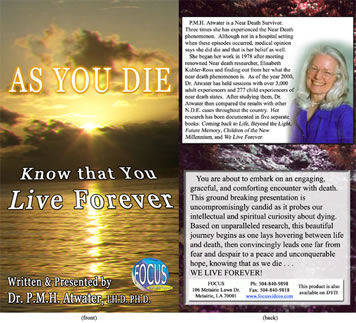 Based on unparalleled research, this beautiful journey begins as one lays hovering between life and death, then convincingly leads one far from fear and despair to a peace and unconquerable hope, knowing that as we die...we live forever!

Extra DVD Features: Audio visual meditations (20min.) a preview of PMH's personal N.D.E. from Beyond the Light (10 min.), interactive menus and Scene Selection.


Focus Worldwide Network has now finished reformatting "As You Die." The audio/video presentation is now available as a CD and in VHS video and DVD. Prices are low, since Focus is non-profit and totally devoted to returning the mystical to churches, especially the Catholic church. I feel very privileged and honored that they have taken over the production, distribution, and sales of this important work. "As You Die" is the only presentation on earth that talks a person through physical death as he or she is dying, and the soul's separation. It has been field tested for over a decade with hundreds of people, demonstrating that it really does help to alleviate the fear of death, and makes it easier and quicker for someone to die and die at peace. I am amazed at how many families play the presentation after their loved one has died, sometimes long after, so they too can be at peace.

:
How this presentation originated:

A young man dying of AIDS contacted Dr. Atwater and said, "I've read all the books on death and dying. I've attended all the seminars. No one is telling me what I want to hear." "And what is that?" she replied. "I want to know what it feels like to die. I want to know what you know." She spent over an hour with him, and he left in peace and died in peace several months later. What helped the young man from New York City is now available so others may benefit from the same session. This presentation has three phases: introduction, preparation for death and how loved ones can participate, then talking the individual through death as it occurs - including the soul's separation from the physical body. Since the last faculty lost in death is the ability to hear, Dr. Atwater recommends that the last half hour of this piece be played again (or perhaps for the first time) after the individual has died.

"The tape was just beautiful. I admire your originality in your 'As You Die' tape. NO ONE ever talks about death. They talk about cancer and everything else, but death seems to be conveniently side stepped. That is the most important, and difficult, part of life. You convey your point in such a way that is beautiful gentle, and comforting. You talk about what it is like to actually pass away. Dad only heard the first half of the tape before he passed - I wish he could have heard the second side. I think that was the best. Had I known the last half-hour was so lovely, I would have prepared myself to play it for him after he died. I hope the tape made him feel better. I tried to prepare him. That is why I bought your tape for him. I am glad I finally was able to listen to it myself. It was terrific. The topic of death is so taboo. It shouldn't be. If we were brought up with the correct teachings of death, people like me wouldn't have so much trouble trying to cope with it. Death should be treated just like birth. I think we'd all be healtheir if it was! It's people like you that help to do just that and I am happy I found you and your tape. I highly recommend this tape for not only the person who is dying, but the family as well. It feels like someone giving you a tender, reassuring hug."
....Lynn Johnson
And Eileen Brooks, Calgary, Canada,
has this to say about "As You Die:"
"I bought the tape specifically for my mom, who at that time was 81 and not ready to go, but in bad shape. She continued to get worse and went into respiratory failure. I went to the home to be with her, but never thought about the tape until that night. The next day I put the tape on as soon as I got there. It was as if an immediate peace came over her. I sat holding her hand and as we listened to the tape, you said, 'Your eyes are growing heavy, your arms are growing heavy'....and then "'Your heart stops beating'....it did, and she very peacefully passed over. I sat with her and listened to the rest of the tape before calling the nurse. I felt an incredible sense of peace and relief come over both of us. It was amazing! I want to thank you from the bottom of my heart. What a beautiful way to die!"