Coming Back to Life
(Revised Edition)

Paperback:

256 pages

Publisher:

Transpersonal Publishing; Revised Edition

Language:

English
ISBN-10:

1929661304

Publisher:

Citadel; Rev Upd edition (October 1, 2001)
Mass Market Paperback:

95 pages

Publisher:

Ballantine Books (June 14, 1989)

ISBN-10:

0345360168
ORDER DIRECT DELIVERY to:

Virginia
, All other
United States
,
Canada/Mexico
, or
Worldwide
.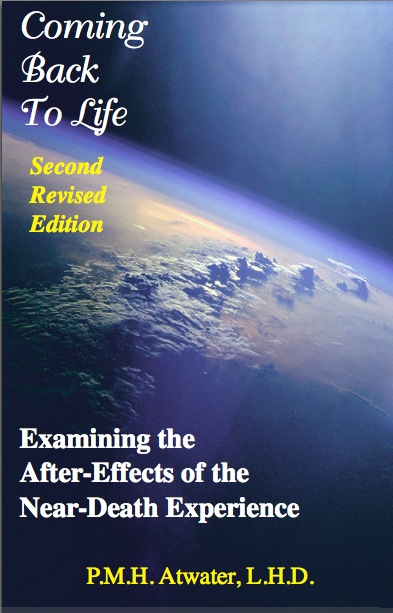 Now also available on Amazon's Kindle.
"COMING BACK TO LIFE" is the first book about the near-death phenomenon to look at all aspects of both the experience and its aftereffects - including the hellish experience, suicides, possible changes in brain structure and chemistry because of what happened, plus how the phenomenon really affects those who experience it - and compares all of this to what a person goes through after a transformation of consciousness, no matter how caused. The tone is up front and personal. The story of the author's three near-death experiences is covered in Chapter Two, as a way of setting the stage for this controversial investigation. Extensive Resource Section.

Author Note: My research of near-death states began in 1978, one year after my own episodes, and continues today. I was trained in research by my police-officer father, and conduct my investigations accordingly, cross-checking my findings at least three times before I publish anything. Most of my material is based on on-the-spot interviews, observation and analysis - all of it original. My preliminary findings were published in a column I wrote for Vital Signs Magazine, then a publication of the International Association for Near-Death Studies, beginning in 1981. "COMING BACK TO LIFE" is an outgrowth of those early columns.

"Coming Back to Life-the After-Effects of the Near-Death Experience is a great book for all, but especially for those who have had a near-death experience (NDE). It speaks so fully of the event and helps us grasp the difference in how we, as experiencers, express differently before and after the NDE. Not only does it help others understand the phenomenon and the NDEer, but the analytical efforts of Atwater clarify points most experiencers do not stop to consider. Once they read this material, the self that has been "made new" can be worn more easily.
"Remember ye are Gods" becomes a deep and meaningful statement as each lives a life that has had the veil stripped away and the love light focused powerfully into human day-to-day life. The author works as the detective she is known to be, investigating at great depth the spiritual passion that rushes into the consciousness when divested of its façade. The impact of her research becomes a gift to each reader as she shares how the brain functions in new ways, how love is different, why some find their power through this experience, and many other important factors about lives powerfully affected. I suggest that by today we all realize the power of this profound experience that changes lives. If not, this revised material provides new things to ponder. Each audience is prepared to listen to NDEers as they speak with the recognizable authority of their nature that makes itself felt as well as heard. These pages ring with such authenticity." Carol Parrish
"An extraordinary piece of work....There is nothing to equal it anywhere in the literature for sheer abundance of information, sensitivity, and readability. Atwater is one of the foremost authorities on the aftereffects of a near-death experience." Kenneth Ring, Ph.D.

"This book gripped me more than any other book I've picked up in the last 10 years. It talks about the changes we are moving into and helps us understand some of the things we will be moving through. It's a book of reality and a book of hope."Marzenda Stiles McComb
"Atwater has made a significant and pioneering contribution not only to the literature on near-death experiences, but also to our more general understanding of the long-term impact of powerful subjective experiences on overall human values and behavior. This book is bound to become a classic reference work in its field."Keith Harary, Ph.D.
"Anyone interested in the personality changes which affect persons with an NDE, and this includes relatives and friends of such persons, will find this very interesting reading. . . compelling.Raymond A. Moody, Jr., M.D.
"What does a physician do when the soul of his patient is sojourning? A strong message, contrary to established orthodoxy, for holistic or allopathic fields of health care." William G. Reimer, N.D.
"Atwater is earnest, helpful, boldly honest, as she considers her experiences and that of dozens of others who emphasize the aftereffects. The near-death experience, or 'lightflash,' is often the necessary psychic shove a person needs to initiate the spiritual life and is apparently phenomenologically identical to many spiritual experiences reported by mystics." East West Journal Magazine
"When I found your book, which held no stops, just told your experience no holds barred, it took my head off. I had at last found an experiencer who is both a clear and poetic author and a scrupulous observer. Your vulnerability is touching, in print and in person, as are your courageous movements in controversial and unmapped geographies." Marie Southwick
"This admirable and interesting book, in its honesty of expression and width of vision, gives us guide lines to understanding what is really happening now in our dramatic age. We must be deeply grateful to P.M.H.Atwater for her contribution." Sir George Trevelyan
"Valuable to all of us. Recommended to health care professionals for insight into the real essence of human beings." Rauni-Leena Luukanen, M.D.