The Goddess Rune Kit
Book and Runestones

Paperback:

163 pages

Publisher:

Galde Press (July 1, 2007)

Language:

English

ISBN-10:

1931942560

Includes:

16 handcrafted goddess runestones, drawstring pouch and 15" by 20" sacred casting cloth in assorted colors.
DISCONTINUED!

ORDER DIRECT DELIVERY to:

Virginia
, All other
United States
,
Canada/Mexico
, or
Worldwide
.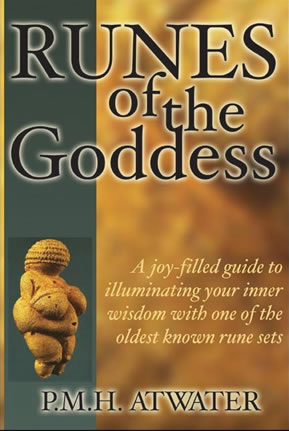 DISCONTINUED!
From the author:
They're back! Thanks to
Galde Press
!!

Finally and at long last, the runes I use are back – this time as "Runes of the Goddess." Items can be purchased separately or in a kit. The shamanic/meditative CD I voiced is sold separately.

This event is thrilling to me, because these ancient symbol-signs and their simple casting process are what I used after my three near-death experiences to retrain how I used my brain. Goddess Runes go back as near as I can tell to the matriarchal societies of Old Europe, around Ukraine, Georgia, and the Danube. Using this historical set enables one to bring together both hemispheres of the brain and become more whole-brained. They are practical, simple, easy to use, and more fun than any of the oracle runes currently on the market, such as Futhark (which is really much younger of age and dates back to Northern Europe and the Scandinavian countries). Goddess Runes are casting runes – they work together as one unit, and reveal far more information than oracle types. They never evolved into a written language; and because of that, they have retained the spiritual sacredness which birthed them.

I brought these runes to light several decades ago, first in the book "The Magical Language of Runes," and then later through Three Rivers Press as "Goddess Runes." These earlier tries never sold well because the runes themselves did not come with the book. People wanted a kit. Now, thanks to the vision of Phyllis Galde, we have a kit. The runes themselves were designed by Shirley McDaniel, and she did a wonderful job. My heart-felt gratitude to both of these people and their willingness to help me bring back the treasure which has remained hidden from public view. This endeavor is my way of saying "thank you" to the runes for all they once did for me, and of passing the skill on. They are in every way part of my own near-death experience story.

It is no secret that when I first saw these runes, I instantly "knew" them, even though I had never heard of them before. It was at a "Welcome-to-Boise-Idaho" Party a friend of mine held for a troupe of Renaissance people he met at the grocery store. As a way of saying thank you at the party's close, one of the troupe cast on three questions from the crowd. I was entranced, and found myself silently in my head, critiquing the woman casting them. During the second cast, she turned my way and outloud said to me, "You know more about these runes than I do." Without thinking, I replied, "You're right, I do." She made me a set – I use it still today - but the hows, whys, and wherefores of their charm and their magic came from the countless hours I experimented with them, researched them, and finally satisfied myself that I could not control them or what they did. My set I dedicated to God in service to others. That commitment reigns supreme – and is why my ego has no place in their use.

The kit includes the book "Runes of the Goddess," a set of Goddess Runes with bag and casting cloth, and a reference chart.
Galde Press
sells the book as well as various items in the Kit separately. On this website, only the Kit and/or CD can be purchased.

Galde Press, P. O. Box 460, Lakeville, MN 55044-0460; 1-800-777-3454; (952) 891- 5991;
phyllis@galdepress.com
;
www.galdepress.com
.

I wish to publicly thank Brad Steiger, a dear friend, for suggesting that I contact Phyllis Galde about this project. He must have "known" it would work. By the way, Phyllis publishes Fate Magazine, as well as managing a lively publishing firm. Blessings to all!
PMH