We Live Forever:
The Real Truth About Death
Paperback:

158 pages

Publisher:

A.R.E. Press (Association of Research & Enlightenment)

Language:

English

ISBN-10:

0876044925
ORDER DIRECT DELIVERY to:

Virginia
, All other
United States
,
Canada/Mexico
, or
Worldwide
.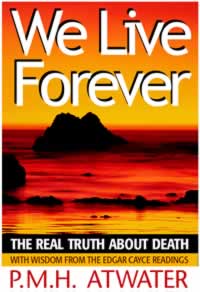 | | |
| --- | --- |
| "It's ALWAYS in our best sellers always in the top 5 - Let's face it - It's an incredible book!" | |
Authors Note: My newest book is now available.Publisher A. R. E. Press, Virginia Beach, VA. You will be surprised by this book, for it talks a lot about heaven and hell and the soul, the will of the soul, and with a lot of personal stories from me and others, revelations of all sorts, plus a memorial to my granddaughter, Myriam, who is now in spirit. Whatever you thought you knew about life and death, be prepared for some surprises. The material is based on my 26 years of researching the near-death phenomenon with thousands of experiencers, other personal stories, plus what I myself witnessed on the Inner Planes when I died in 1977. A workshop intensive, "Deepening into Spirit," now exists as a compliment to the book. ...P.M.H.Atwater, L.H.D., Ph.D. (Hon.)

"PMH Atwater brings the subject of death to life with words both poetic and real in WE LIVE FOREVER. Sharing the most intimate details of her own near death experiences, Atwater invites us to open our minds to a deeper understanding of who we really are and how we are all interconnected through life and death. I love the way Atwater describes how everything in the universe breathes, and how we can be at one with each other and God when we breathe together.
WE LIVE FOREVER includes essential information on assisting those who are dying to make the smoothest possible transition in easy-to-follow steps. This book contains numerous fascinating facts and stories that explain how we know when we are going to die, how we can see and feel peoples' prayers for us when we've died, and how many different types of experiences are available to us when we die.
WE LIVE FOREVER is essential reading for anyone seeking answers to what awaits us when we leave our physical bodies behind, as well as for anyone caring for someone who is about to die."

From Cynthia Sue Larson Author of "AURA ADVANTAGE: How the Colors in Your Aura Can Help You Attain What You Desire and Attract Success," available in Barnes and Noble book stores everywhere!http://realityshifters.com/

"Dr. Atwater is an authority on death and dying and the afterlife. She has had three near-death experiences (NDEs) and as a result became a near-death researcher. She has written several previous books on these subjects that have become standard texts. Predominant among these are: Coming Back to Life, Beyond the Light, Children of the New Millennium, Future Memory, The Complete Idiot's Guide to Near-Death Experiences, and The New Children and Near-Death Experiences. We Live Forever is P.M.H.'s most personal book. First, she describes in great detail her first NDE. She then tells us how the NDEs affected her and caused her to become a NDE researcher. Following this, we are guided through her research, literature search, and thought process that enabled her to conclude that we live forever. Dr. Atwater presents a great deal of evidence, direct and indirect, to support her conclusions. As a scientist, I cannot say with absolute conviction that we live forever. However, from the evidence presented by P.M.H. Atwater and other NDE and afterlife researchers as well as my own investigations, I believe that there is a real probability that death is not the final stage.

Some subjects covered extremely well in We Live Forever by Dr. Atwater are: knowing when you are going to die; interconnected webs of creation; heaven and hell; levels of the afterlife; after-death contacts; various aspects of NDEs; breathing techniques and meaning of breath; the four energy fields (physical, emotional, mental and spiritual); the physical, astral and spiritual worlds; Dr. Atwater's NDE research, how it feels to die; what death is; the death flash; empathic experiences of dying; healing helpers; the power of prayer; and the real truth about life.

This is P.M.H. Atwater's shortest book, but it is filled with some of her most profound wisdom. Therefore, even if you have read some or all of Dr. Atwater's previous books, you will still learn a great deal from purchasing and carefully reading We Live Forever." ...January 2005 issue of "The Journal of Religion and Psychical Research." It was done by Donald R. Morse, D.D.S., Ph.D.

"Gerard called me. He's been dying for some time. I don't hear from him too often, but this time his voice was lower than before and raspy. 'I've read all your books, Dr. Atwater. I've read all the books about death and dying out there. I just read WE LIVE FOREVER, and I want you to know this is the best book you have ever written. It is also the best book ever written on the subject by anyone. I am going to spend the rest of the time I have left promoting this book. People need to know about it.' Gerard's comments were powerful. I am touched and humbled beyond words by his phone call." PMH

"Long-time professional researcher and recognized authority on the near-death phenomenon, P.M.H.Atwater is amply qualified to interpret and analyze the many detailed accounts from people of all ages and levels of society. Her conclusions, deeply insightful and convincing, build a non-denominational and cross-cultural basis for the science of death, near-death, and the after-life. She creates a credible and useful picture of the soul - its nature, scope, qualities, and its role in one's life and death. Heaven and hell are explored within the many "energetic" levels of reality in and out of the earth plane.Some of the information will startle and fascinate those readers new to this realm: aborted twins, who have "grown up" on the other side, showing up to greet the near-death experiencer; encountering a future child; reliving one's conception, with the attendant knowledge of choosing the most suitable genes for one's life purpose.

Much of the information will comfort and relieve those with a fear of dying and the afterlife. To this end, a listing of groups, projects, music, and videos is full of helpful contacts, including a groundbreaking presentation, "As You Die," available in various formats, to guide a loved one through the process in peace.
The candid sharing of her three deaths makes this Atwater's most personal, heartfelt, and valuable book yet." ...as it appeared in the Sept/Oct '04 issue of "Venture Inward Magazine" by Susan Lendvay

"Regarding your new book, this is the book that I've wanted to read for years. Rather than extracting information from your extensive near-death research, this is your personal story which is truly inspiring and worthy of acclaim. It is wonderful to experience your own voice telling your three, compelling near-death episodes . Your dedication to changing the spiritual paradigm from one of fearing God and "death" to one of understanding that death is illusion and God is but pure Love, is a great contribution to our society and to the individual seeking personal spiritual growth. Kudos! " ...Doug Lee, Successful business executive and innerfaith minister

"P.M.H.Atwater - the renowned researcher of near-death experiences, future memory, and children of the new millennium - has written her most personal book. This true story is rich in both philosophical insight and in emotional subtlety. It shows us the glorious beauty that lies hidden within even the most terrible tragedies. Perhaps the greatest recommendation I can offer is that this is a book written with care and tenderness by a loving heart." ...Jeffrey Mishlove, Ph.D., host of the "Thinking Allowed" television series, and author of many books.

"This is a true story: One night when I was having trouble sleeping, I decided to get up and read through the manuscript, WE LIVE FOREVER: THE REAL TRUTH ABOUT DEATH, that P.M.H.Atwater had sent me for review. I honestly thought that a few minutes browsing through the text pages would help me to become drowsy and fall asleep.

"Well, things didn't work out that way. I sat there, caught and held by the text, compelled to read on until I finished the entire book around 5:30 am. I have followed Atwater's work and her writing for over 30 years. I have always found her to be a meticulous researcher, right down to the last nit to be picked. This present work gives evidence of Atwater the researcher, but the text reveals so much more about the depth of her soul, her love for others, and how much she truly cares that as many people as possible are able to make the transitions of mind, body, and spirit that are required in these times of storm, stress, and opportunity. In WE LIVE FOREVER: THE REAL TRUTH ABOUT DEATH, P.M.H.Atwater allows herself to drop the barriers required of the objective researcher and write what I found to be some intensely subjective, but absolutely beautiful and highly inspirational writing. Atwater has given us all a gift to be cherished - and a book to be read and reread again and again." .....Brad Steiger, author of "One with the Light," and "Returning from the Light," as well as dozens of other fine books. "I invite you to join PMH Atwater as she steps out of her prolific researcher mode and shares the powerful fallout from her many paranormal experiences and insight. Prepare to be drawn into her lively reliving of Soul-identification, and into the meaning her experiences have for great joy at stretching minds in the process!" ....Elizabeth E. McAdams, Ph.D., co-author of "The Case for Life After Death," and President of International Foundation for Survival Research.
"P.M.H.Atwater, in her newest work, tries to process the unspeakable from the standpoint of a near-death experiencer, a near-death researcher, and a spiritual visionary. This is a serious topic for all of us, namely to take the revelations given to us by the enormous number of near-death experiencers in earnest at last. "However, P.M.H.Atwater would not be P.M.H.Atwater if she would not also provide good advice and consolement to handle such events. She does so based on her extended data base on over 3,000 adult and 277 childhood near-death experiencers, and in a very experienced, philosophical, and even poetic manner. "This book should be read by everyone who is interested in the spiritual quest." .... Thomas A. Angerpointner, M.D., Specialist in Children's Surgery, Children's Clinic in Munich, Germany.

"WE LIVE FOREVER: THE REAL TRUTH ABOUT DEATH is conceptually earth shaking in its discoveries about the meaning of life. Dr. Atwater has broken new ground in her quest to understand death and the eternal journey of the soul. Her knowledge of death as well as her advice for the dying and their loved ones is a quantum leap beyond the brilliant pioneer on the subject of death, Elisabeth Kubler-Ross." .... Patrick C. Wells, movie producer, author, public speaker, radio personality. Among his producing credits are: "The Personals," "Youngblood," and "I Love You to Death."



From the Afterlife Forum:
by Andrew
Published on 12-17-2011 07:00 PM

0 Comments



P.M.H. Atwater has outdone herself with her latest book, We Live Forever! In it, she discusses her personal history with death, as well several very interesting aspects of near-death experiences and after-death communication. I would recommend this book to anyone who interested in near-death experiences and/or the process of death itself and how it feels.

Having died three times in 1977, Atwater is certainly familiar with the near-death phenomenon. The third of her NDEs prompted her to investigate what was really going on and whether what she had experienced was valid. Beginning in 1978, she began studying and documenting reported cases of NDEs. At press time, Atwater had a research base consisting of over 3,000 NDEs in adults and over 200 in children. Due to such extensive research and documentation, she is regarded as an expert in the field of near-death studies.

In We Live Forever, Atwater starts off by telling the story of her granddaughter, Myriam, who passed away in 1999 of bacterial meningitis. Although Myriam's death was certainly a tragedy, it helped her family to realize the truth about death and realize the importance of love and harmony. In my opinion, Myriam's passing was, as is the case with most child deaths, a pre-planned event to which the family agreed before birth. Afterlife evidence suggests that almost all tragedies are pre-planned to maximize the learning potential.

Throughout the book, Atwater goes on to discuss thrilling topics such as shared-death experiences, the transition process, the power of prayer, and much more. This book blends together a mix of scientific research and eyewitness accounts/experiences to create and irrefutable case for the afterlife.

We Live Forever is also filled with several interesting tidbits about after-death communications. One account features a woman who appeared to her neighbor at the same time that she died from a car accident. The neighbor reported the lady as looking perfectly alive and well, walking down the street, saying hello, and then disappearing behind her front door. It was a truly amazing and reassuring story to read.

To conclude, We Live Forever is a wonderful book for anyone interested in near-death experiences, shared-death experiences, or after-death communication. It is a quick, easy read that does a wonderful job to reassure the reader that death is not the end. I highly recommend it.