A Manual for Developing Humans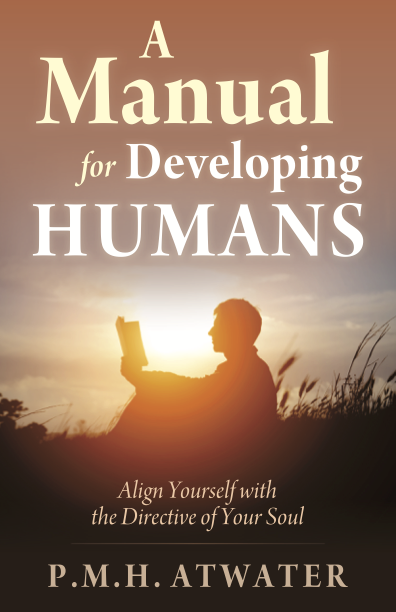 Click for more info and reviews…
A Manual for Developing Humans
is the third book P.M.H. Atwater was told to write during her third near-death experience. Based entirely on threes, there are no chapters . . . only the development of
conscious, subconscious
, and
superconscious
aspects to each topic―every topic―for the
Manual
contains the basics on every level of life―from how to use your mind, develop and use intuition, understand color, sex, relationships, children, how to take out-of-body trips, interact with spirit beings, meditate, bend time, and rethink money.
Aliveness
jumps from every page―of soil, rocks, mountains, vegetation, the air we breathe, our planet, our solar system, our universe―even electricity and energy itself, along with The Void (the ultimate "cradle of creation"). Each of six main parts are separated by thought-form drawings. What she learned from 80 years of living and challenging every aspect of living is interwoven into what "The Voice Like None Other" showed her how to do.
A Manual for Developing Humans
is filled with surprises.
ORDER DIRECT DELIVERY to:
Virginia
,
All other
United States
,
Canada/Mexico
, or
Worldwide
.


A Manual for Developing Humans
…….consider this the ultimate manual for NDErs
…….consider this the ultimate manual for how anyone can recognize and be who they REALLY are!
Bill Gates, Elon Musk, Stephen Hawking
all warn that within the next 20 years or so 45% of all U.S. jobs could be automated. Self-driving cars and trucks will soon replace the need for drivers; small robots to replace warehouse people. Restaurants have already begun replacing workers with boxes where you order and pay. And this is just the beginning.


Elon Musk recommends we adopt a
universal basic income
and give everyone a certain amount of money each year, so we can keep the economy going. He also suggests that some of the money we use to subsidize industries that are mostly automated already, be rerouted to invest in training workers for the new emerging engineering jobs.
This scenario was once science fiction. Now it is science fact.
A Manual for Developing Humans
will help you adjust to our changing times, and in positive, rewarding ways. There will always be plenty of jobs available and ways to create more - even as we alter our concept of what is possible!

---
"A manual for developing humans is PMH Atwater's great work. It takes the reader on a deeply useful and inspiring journey into the true relationship between mind, body and soul with a clarity that I have rarely seen elsewhere. Practical, useful and magically powerful."
— Whitley Strieber …Best selling author, among his hits, Communion (the series) and Super Natural: A New Vision of the Unexplained. Most of his books were made into popular movies.

"This is a well-written book and offers insights into wondrous possibilities for the future of humankind. Please read this book and apply these principles to your life."
— Dannion Brinkley …New York Times Best Selling Author.


"In the Manual for Developing Humans, PMH takes us on a 'spiritual safari' to track down and observe the most evolved yet elusive species on Earth – the New Human. The Manual also assists us in awakening our highest potentials so that we may become New Humans ourselves! How? By including the latest scientific research and her own mystical perspective on such topics as nutrition, the nature of consciousness, justice, economics, even child rearing, PMH provides a celestial view of the Great Shift, our entry into the Fifth World, and our unique role within it. She also opines on the New Human paradox – our ability to create a utopian or dystopian, fixed or flexible future, with the outcome dependent on our ability to quickly integrate Universal Laws of the cosmos. I loved this book and benefited immeasurably from its transformative power, which elevated my soul and prepared me for the next stage of my mission. Thank you, PMH!"

— Laura M. George, Founder of The Oracle Institute, builder of the Peace Pentagon, and author of the Oracle Trilogy – The Truth: About the Five Primary Religions; The Love: Of the Fifth Spiritual Paradigm; and The Light: And the New Human.

"P.M.H. Atwater has been researching near-death experiences since 1978, the year after she had 3 NDE's in three month. Since then she has had contact with nearly 4000 children and adult NDER's. She has written 15 books on the subject and this book is the masterful compilation of many years of research and studying NDE's and related topics. This unusual book is a virtual encyclopedia of topics that will fill your soul, inspire your inner child and creativity, provide a path to greater understanding of consciousness and give you hundreds of ways of developing different attribute's and knowledge that will lead you to a better you. There are hundreds of lessons, from history/government to dowsing, and from kids, NDEs and Rhythms of Politics and war. I have never seen a book that covers so many different topics, and goes into the details you will need to make inspired changes in your life. One moment I am reading the history of women's suffrage in the US, and the next there is a description of how to meditate. There is a section on the history of religion, spirituality and universal law. The next thing I see a detailed account of the history of the universe and a discussion of aliens. I was stunned at the amount of time she put into researching these topics. She provides detail instructions on meditation, dowsing and mindfulness, and prayer. PMH's book will provide years of study and interesting reading. This is not a book that you will sit and just read straight through. You will want to look at a section at a time and do the exercises, and really spend time reflecting. PMH has done an amazing job of covering many subjects of the universe, and laying down a study plan for encouraging you to develop your mind, body, and spiritual life. She has put a lifetime of learning and work into a format that can be studied, experienced and lived. She opens doors to our inner worlds that allows each reader to explore the universe from many different points of view. Her attention to detail and years of wisdom are threaded throughout the book. PMH has decades of insights which she has shared with us in many different ways. I was stunned as I read how she pulled information from so many different fields and wove them into a tapestry that will feed your hunger for knowledge and exercise your developmental skills. Not only is P.M.H. a prolific writer and lecturer, she has dedicated her life to the study of NDE's and been a lifelong supporter of IANDS. She has helped hundreds of NDER's who have been suffering from after-effects or who are trying to find a way to integrate their NDE into their life. P.M.H. has taken the revelations and discoveries from the thousands of NDE she has investigated and turned them into a study guide for enriching your life, and elevating your spiritual knowledge and understanding. Congratulations P.M.H. you have another amazing book that I am sure will benefit many people. "

—
Diane Corcoran, RN, BSN, MA, Ph.D., President of International Association for Near-Death Studies (IANDS).


"There are so many wonderful books on the market about spirituality, humanity and bridging the gap between them. There are equally as many endorsements touting them as' must reads' or 'the most informative works of our time'. Never have I been so excited to become a cliche. With every fiber of my being, I can tell you that the vibrations and frequencies of the incredibly genuine text in A Manual for Developing Humans, come straight from the Source of All That Is. As someone who has lived to tell the tale of what happens when we die, I welcomed the tears of joy while reading this work of love, because it resonated so deeply with everything that I learned about my soul's time and intention while here on Earth. Finally, someone has written the manual! In my opinion, this manuscript will go down in posterity amongst the inspired words of love found in some of the world's most ancient scriptures. It was an honor and a great adventure to read this book and I envy those who are reading it for the first time."
— Dr. Mary Helen Hensley …Author of Promised By Heaven


"This is one book you won't want to miss! A Manual for Developing Humans brings a new and exciting perspective to one of humankind's most ancient and important quests. P.M.H. Atwater's latest book is a remarkable invitation to take control of your life, align yourself with the directive of your soul, and awaken unto yourself. With each turn of the page you will find a treasure trove of insights and inspiration. P.M.H. is uniquely qualified to share these important truths. Her research spans decades and she is the prolific author of 15 books. This book remarkably easy to read and enthusiastically recommended."
— Jeffrey Long, M.D. …author of the New York Times bestselling Evidence of the Afterlife: The Science of Near-Death Experiences and God and the Afterlife: The Groundbreaking New Evidence for God and Near-Death Experience


"
A Manual for Developing Humans
is another practical creation by PMH Atwater. After my NDEs, life in my body was very difficult. PMH Atwater's manual looks at living in the body from various angles that create a life of alignment. Once again, she has written a book that experiencers and non-experiencers can take to a higher level of life enhancement, singularly, as well as with others for planetary cohesiveness."
— Jan Hunt Dawson, Ph.D. author of
LOVE ONLY: Lessons from My Near-Death Experiences, Past Life Reviews, and Aftereffects


"PMH Atwater has done an excellent down-to-earth advice manual on the many stages of life from raising children to aging. A theme in her life has been an exploration for knowledge due to having had and surviving three Near Death Experiences (NDEs). Due to these experiences, she is a prophetess also giving us the patterns of existence for humans. As with the work of William James, the Father of American psychology, delightful explanations and exercises are shown which teach us that as humans we exist in partnership with the worlds of the seen and the unseen. Also, coinciding with the work of Carl Jung, a Swiss psychologist, she touches upon the realm of nuclear psychics and the conception of the space-time continuum. The call of a prophetess is to teach people with their animals to live well on their soul frequency. She does that and much more!"
— Rev. Karen E. Herrick, PhD, LCSW, LMSW, CADC, ACMHP …Member & Past-President, Academy for Spiritual and Consciousness Studies (www.ascsi.org)


"A very useful resource for anyone wishing to "up his/her game" as they move through this tumultuous life. "
— Neale Donald Walsch …author - Conversations with God


---