Near-Death Experiences, The Rest of the Story:
What They Teach Us About Living and Dying and Our True Purpose

Paperback:

290 pages

Publisher:

Hampton Roads

Language:

English

ISBN-10:

157174651X
ORDER DIRECT DELIVERY to:
Virginia
,
All other
United States
,
Canada/Mexico
, or
Worldwide
.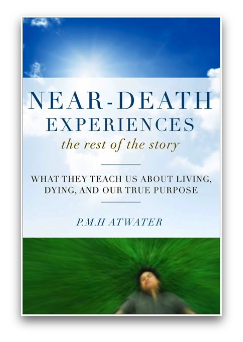 An international authority on near-death states, Dr. Atwater uses the culmination of her research to establish that the near-death phenomenon is not some kind of anomaly, but is rather part of the larger genre of transformations of consciousness. She combines her 33 years of near-death research with what she was doing in the 60s and 70s, experiencing, experimenting with, and researching altered states of consciousness, mysticism, psychic phenomena, and the transformational process, to reveal what transformations of consciousness really are, why we have them, and where they lead us. This lifetime endeavor covers over 43 years of work, involving nearly 7,000 people. Her meticulous and unique protocol gives validity to what she has discovered and verified.


Reviews:
Having undergone her own profound transformations in consciousness resulting from three successive Near-Death Experiences in 1977, P.M.H. Atwater set about on her distinguished career of careful, detective-like fieldwork and research into the mysteries of NDEs. Near-Death Experiences: the Rest of the Story is her crowning achievement. In it Atwater places the varied phenomena of NDEs into a broader setting of the natural "ongoing process of transformative adaptation within the human family as a species." This is P.M.H. Atwater at her very best, resetting the bar for all future NDE research. She is magnificent in her painstaking role as detective, observer, interrogator, advisor, empathizer, compiler & categorizer of data, and creative formulator of plausible hypotheses in the face of 43 years of research findings. This book cuts a broad swath through shifts in brain functions, precognition and other paranormal abilities, the role of the limbic system, synchronicity and synesthesia, temporal lobe libraries, Akashic records, altered states of consciousness, entanglement & nonlocality, kundalini, chakras, colloidal states, quantum coherence and the holographic brain & universe. This is Atwater's 10
th
book, and is an absolute must for anyone interested in how NDEs relate to the transformation of consciousness, spiritual awakening, and our true potential & that of the world. It is destined to become a classic in Near-Death Studies and Consciousness Research, and has my highest recommendation.
~Scott A. Olsen, Ph.D., author of the award-winning, The Golden Section: Nature's Greatest Secret.


"In her latest work, P.M.H. Atwater continues to explore the great mysteries surrounding life and death. 'Near-Death Experiences: The Rest of the Story' is intriguing, thought-provoking and a 'good read.' Atwater's compassion and dedication to her subject matter shine through in her writing. Her findings, based on intensive research, not only enlighten but inspire much hope for the future."
~Jean Terra, Professional editor, formerly on governor/statehouse staff, Boise, Idaho


In Straight Talk, you will learn "To whatever degree an individual awakens, the soul responds, and consciousness expands – personally and collectively." This review of over 3,000 NDE cases belongs on the bookshelf of everyone interested in the survival of consciousness. The inescapable conclusion of her intensive study is in keeping with my conclusion that "always, there is life."
~John L. Turner, M.D., author of Medicine, Miracles, and Manifestations.


"This is a much-needed book about the transformation of human consciousness. After three near-death experiences of her own followed by 33 years of researching the subject, including working with nearly 4000 NDE adults and children and writing nine books on the subject, PMH Atwater has become the leading and most prolific authority on the near-death experience.
"Regarding this culminating and definitive book on the NDE subject, she writes, 'I offer the following to you as a synopsis of what I really saw when I looked deeper.' She writes of 'a pattern of awakenings,' with NDEs being 'part of an ongoing process of transformative adaption within the human family as a species.'
"What makes this final book in her NDE series so important is her presentation of her perspective on what she call a 'Brain Shift/Spirit Shift: a theoretical model using research on near-death states to explore the transformation of consciousness.' She wants us to know that 'We have an opportunity, through the study of the near-death phenomenon, to see how brain, body, and spirit might operate to fulfill agendas beyond that of personality or place.'"
~Jon Klimo, Ph.D., co-author with Pamela Rae Heath of "Suicide: What Really Happens in the Afterlife."


"PMH Atwater has been a prolific writer about Near Death Experiences and related topics. This book, in my estimation, may be her best to date. It is scholarly -- yet also very personal and daring. The reader will especially enjoy the interesting footnotes and annotations. But, most importantly, this book embodies the deep reflections of a seasoned and compassionate researcher."
~Jeffrey Mishlove, PhD Dean of programs in Transformational Psychology University of Philosophical Research


"Near-Death Experiences: The Rest of the Story" is written by one of the foremost near-death experience researchers, P.M.H Atwater. This book is a treasure trove of over 30 years of her research. The book is well written and remarkably easy to read given its comprehensiveness. In a world rife with uncertainty and struggles, P.M.H.'s "Near-Death Experiences: The Rest of the Story" provides priceless insights, soothing reassurance, and life-changing inspiration.
~Jeffrey Long, M.D. Author of the best selling book, "Evidence of the Afterlife"


Some 20 years ago I read P.M.H. Atwater's first book and was stunned. She opened up for me new, undreamed of, possibilities that helped to set my life on a new path. Over the years I have watched her grow and expand her work, deepening her insights and pushing Near Death studies in new directions. This, her latest book, is a culmination of a lifetime of study and deserves to stand as an enduring contribution to the understanding of life beyond physical death. As always, P.M.H. has challenged outdated assumptions while outlining new perspectives. Her writing sings with the authority of one who has been to the other side multiple times yet it is also tempered by a researcher's precision. In doing do she has helped to lay the groundwork for new methodologies for the study of human consciousness. It is a joy to read and a treasure trove of wisdom that will serve as a guide for generations to come.
~Paul Rademacher, Executive Director The Monroe Institute

PMH Atwater has been researching Near-Death Experiences since 1978, in the process studying nearly 4,000 cases. "Near-Death Experiences: The Rest of The Story" is a summation of what she has learned and discerned over those years of study. The book is written in an easy accessible style, and is well-grounded in the science of the field. It covers much more than near- death, and is a compendium of wisdom about the nature of consciousness that is well worth your time.
~Stephan A. Schwartz Senior Samueli Fellow for Brain, Mind, and Healing Samueli Institute Author of: "Opening to the Infinite"



In "The Rest of the Story," P.M.H. Atwater significantly pushes the acceptable boundaries of the scientific, spiritual and moral implications of the near-death experience, in modern times. This book is a must-read for anyone seeking to understand the unacknowledged ramifications of the fact there is no such thing as death!
~Dannion and Kathryn Brinkley International best sellers of Saved by the Light, Secrets of the Light



In "Near-Death Experiences: The Rest of The Story," Atwater pulls
together for the first time everything she's learned from a lifetime of
research on near-death experiences (NDEs), and lays out her theories on how
they relate to modern physics, religion, and what we can learn from them.
Throughout the book, she uses a wealth of firsthand accounts. Summarizing
decades of earlier work, she illustrates her model of the four types of
these experiences and presents fascinating insights about the meaning and
consequences of each of them. She discusses not just what happens to
experiencers on the Other side, but also what occurs in the physical realm,
with shifts not only in personality but also in brain function. Towards the
end, Atwater presents ways of looking at our evolution and a new model of
existence. If you can only have one book about NDEs, it must be this one.
~Pamela Heath, M.D., PsyD, author of "Suicide: What Really
Happens in the Afterlife?," "Handbook to the Afterlife," and "Mind-Matter
Interaction"




As I expect from Atwater, "Near-Death Experiences: The Rest of The
Story" is fascinating and challenging. Her willingness to deal with the
spiritual implications of NDEs is needed and refreshing; too many of us
pussyfoot around this area, fearful of controversy. Atwater gives it to us
straight, and I'm delighted with the book - even when, as I occasionally do,
I disagree with her interpretations! Highly recommended if you care about
life, death, and NDEs.
~Charles T. Tart, Ph.D., a pioneer in the field of
consciousness studies. His latest book, "The End of Materialism: How
Evidence of the Paranormal is Bringing Science and Spirit Together."



PMH Atwater will astound you with her theory of everything, scope of knowledge, unique but proven method of research, breadth of topics (not just Near-Death Experiences), and her startling and uplifting conclusions, all backed up with extensive footnotes, suggested readings and websites. Each chapter ends with a great revelation than the previous one; building up to an enhanced understanding about life, light, energy, and consciousness. She writes transcendent truth that illuminates as it educates. Near-Death Experiences: The Rest of the Story ties together many fields of knowledge and is a metaphysical tour de force.
~Beverly Brodsky



Having truly enjoyed PMH Atwater's book We Live Forever, when a publisher to offered to send me a review copy of her newest book, Near-Death Experiences: The Rest of the Story, I jumped at the chance. For those of you who are not familiar with her, PMH Atwater is one of the leading researchers of the near-death phenomenon. She has been working in this field for over thirty years and has interviewed over three thousand experiencers.

I have read a lot of books about near-death experiences so, when I picked up this book, I already had a good idea about how the experiences work and what the experiencers typically remember from them. As soon as I started Near-Death Experiences: The Rest of the Story, though, I knew that it would go beyond the scope of the typical near-death experience book.

Throughout the entire book, Atwater presents the reader with little-known, but extremely interesting facts about the near-death phenomenon. What I love about this is that, although I was incredulous of a lot of the facts at first, Atwater has provided readily available data to back up her finds. After seeing her research, it is extremely difficult to question her findings.

Amongst the many interesting facts featured in this book is the sensitivity of near-death survivors to light. Often, what was, before their experience, a normal amount of light, becomes unbearable to them afterwards. Many survivors also have the tendency to wake up between 3:00-4:00 AM for no apparent reason. Another strange change in near-death experiencers is that their bodies begin to reject conventional medication. It is amazing what Atwater's diligent research has been able to unveil. Her research has also created many new questions about how and why these changes occur.

Atwater also goes into the effects, both short-term and long-term of having a near-death experience. She explains that one never knows exactly how a person will react, which is why it is impossible to classify spiritual experiences as positive and negative. For example, a man who experiences a heavenly realm may commit suicide and thus end his spiritual growth in this life, while someone who encountered a hellish realm in his experience may turn his life around and progress greatly.

Besides physical and emotional effects, the books discusses the spiritual after effects of such experiences. Atwater tells the reader that there are two main spiritual changes that come from a near-death experience: the experiencer knows that a Higher Power exists, and the experiencer loses all fear of death. These two things are perhaps the greatest psychological proofs that such experiences are valid spiritual events.

Overall, I would say that this book is not for those who are beginning to research the near-death phenomenon. It would be better to begin with a book that goes through the tradition understanding, effects, and parts of the typical near-death experience, and then move on to this book. Near-Death Experiences: The Rest of the Story is, however, a must-read for anyone interested in near-death experiences and is highly recommended for those who have already begun to research this phenomenon.

– Review by 'Andrew' published on 02-20-2012 - http://www.eternityforall.org/