I DIED THREE TIMES IN 1977 (Original)
PMH Atwater's very first book available only by download via this website!
Paperback:

53 pages

Publisher:

Starving Artists Workshop

Publisher:

You Can Change Your Life (First Edition: November 1980)

Language:

English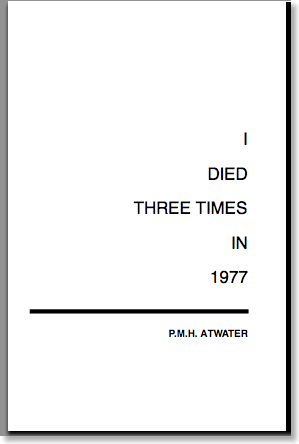 PLEASE NOTE
!
This is not the
same
book as the all new e-book which is only available from Amazon.com (and soon the Apple iBookstore):
"I Died Three Times in 1977 –The Complete Story"

Wabun Wind, the Medicine Helper of Sun Bear, a Chippewa Medicine Man and founder of The Bear Tribe, asked Atwater to write a series of three articles about her three near-death experiences in 1977, so she could publish them in The Bear Tribe's magazine, "MANY SMOKES" (no longer in publication). There were so many requests for reprints, that Atwater turned the articles into a small book. This is the book Kenneth Ring "happened upon" in a Connecticut bookstore. (Ring is the one who scientifically validated the work of Raymond A. Moody, Jr.) Ring tracked down Atwater, then visited with her at length. When he discovered the extent to which she had been independently researching the near-death phenomenon since 1978, he invited her to write a column for "VITAL SIGNS," a publication of the International Association for Near-Death Studies. Her column began with the June issue, 1981. This little book is what introduced P.M.H.Atwater to the larger field of near-death research, an involvement that would lead her to cross-check her original findings and write the book, "COMING BACK TO LIFE."

Now available for immediate purchase and download...


...Or read this all new e-book from PMH Atwater: "I Died Three Times in 1977 –The Complete Story"

How to Order:
"I DIED THREE TIMES IN 1977" is available here for $4.95 -- an immediate download of a 549K

Adobe Acrobat 'PDF' file.