WE LIVE FOREVER:
THE REAL TRUTH ABOUT DEATH
- DVD
Filmed at Transformation Conference 2007, Fayetteville, Arkansas, this two-hour presentation by P. M. H. Atwater focuses on the greatest mysteries of all time - death, heaven and hell, the existence of the soul, and the power of prayer.


Out of Print.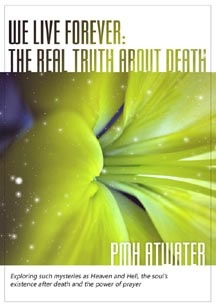 Dr. Atwater shares how deeply the attack on Pearl Harbor affected her as a first grader in school, and how the specter of death has been a part of her life ever since. Using this and her research of near-death states as a springboard, she discusses in-depth the existence of the soul, soul groups, soul cycles, leaving the body after death, different energetic layers to the afterlife, borderlands and inbetween spaces, and spirit beings on the Other Side. She shares "What Death Is" and "What It Feels Like To Die" (summarizes from comments of over 3,000 near-death experiencers during her research of the near-death phenomenon). Reference her book: "We Live Forever," A.R.E. Press, Virginia Beach, VA, 2004.