PMH Atwater - A Book of Columns
This CD contains the complete collection of columns written for IANDS' Vital Signs newsletter from 1981 to 2004 by PMH Atwater, the most prolific writer and researcher about NDEs.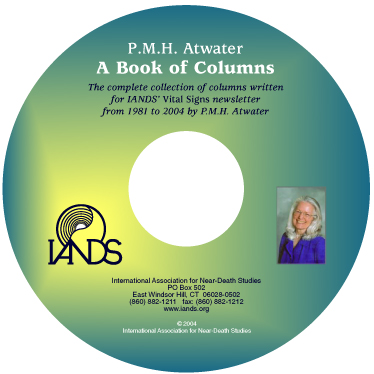 This CD is vintage Atwater. No one has ever written better about the experience of the experiencer! Included is the exceptional series of columns titled "The Seven Most Common Aftereffects," probably the best descriptions of what it feels like after experiencers return from their NDEs. This is a must read for all experiencers and anyone close to them - family members, friends, mental health and medical professionals - who want to understand why so much has changed for these folks.
Interspersed throughout the CD are PMH's personal reflections as a researcher, speaker, and near-death experiencer herself; her observations on the field of NDE research; and numerous accounts of NDEs as told to her by experiencers.
All the columns are in PDF format, readable on any computer (the free Adobe Reader is required which is very easy to download), just as she wrote them originally. This is a collection to keep and pass on, and to give to another experiencer – especially a new NDEr – as a gift. Available only directly from IANDS.